----
The Summer Mac Essentials Bundle for $19
//
StackSocial
Tune Up Your Mac with 9 Exciting Apps Guaranteed to Refresh Your Workflow
Expires June 29, 2015 23:59 PST
Buy now and get 90% off
Unibox
KEY FEATURES
Take a fresh look at email with Unibox, a beautiful new email client that organizes your inbox by person and enables you to concentrate on actual human communication, as nature intended.
"Unibox's slick interface and contact-centric design make it the best client we tried."
AppleInsider
Group emails by person, with all emails & attachments in one place
Read & compose emails in a single window, similar to messaging apps
Visually browse all your attachments with the Attachment grid
Enjoy full IMAP compatibility, with a unified view across multiple accounts
Take advantage of full support for filters, aliases, signatures & threaded conversations
COMPATIBILITY
OS X 10.8 or newer
IMAP email account (iCloud, Gmail, Outlook, Hotmail, Yahoo & many others)
Languages: English, German, French, Italian, Dutch, Polish, Portuguese, Russian, Swedish, Spanish & simplified Chinese
Noiseless
KEY FEATURES
In low-light photo ops, every smartphone, compact camera and DSLR creates "noise," or small color or light speckles that can ruin your otherwise great photos. Noiseless's advanced technology cleans up this digital noise fast, while retaining sharp details, all with a single-click!
Top 10 Paid Mac App Store App (U.S. Store) since its release, with a 5-star user rating!
Uses revolutionary smart noise reduction technology w/ pixel-perfect detail recovery after noise reduction
Employs advanced technology specifically for iPhone & other smartphone photos
Supports JPG, PNG, TIFF & RAW formats
Includes one-click presets for quick & flawless results
COMPATIBILITY
OS X 10.8 or newer
4GB RAM, 512MB VRAM
Supports: JPG, PNG, TIFF & RAW (.nef, .cr2, .dng, orf, etc. 8-bit and 16-bit)
Languages: English, German & French
Hider 2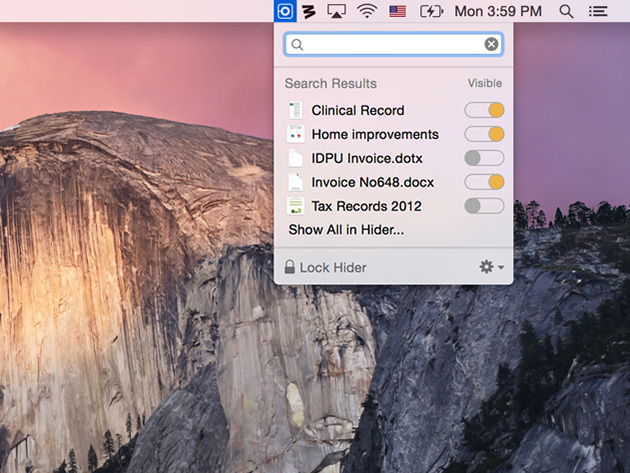 KEY FEATURES
Hiding sensitive information from prying eyes on your computer is possible, but usually not easy. Hider makes it simple to keep your files locked up safely, but still easily accessible to you and only you. Just drag files into your password-protected vault and voilá--security at your fingertips!
"Securing your files isn't always a simple process. Hider is an app that makes the process of hiding away and encrypting files quick and easy."
LifeHacker
Toggle between hidden & visible w/ just a click
Hide files to make them unsearchable w/ Finder & Spotlight
Secure your hidden data with AES-256 encryption
Quickly & easily navigate the beautiful user interface
Compose private & secure notes with Hider's in-app notes
COMPATIBILITY
OS X 10.8 or newer
Languages: English
NoteBook 4
KEY FEATURES
Revolutionize the way you take notes with this classic, highly-rated Mac app. NoteBook captures the perfect blend of the old school note-taking experience and innovative digital technology that will supercharge your productivity one note at a time!
"Circus Ponies has spent years crafting a rich, robust experience that's among the most powerful I've ever used."
Macworld
Store your notes & info in documents that mimic paper notebooks
Place notes anywhere on a page & include attachments within text
Export to PDF or as a website, for access from a local disk or web server
Add a password to encrypt your content
Record & sync audio w/ your notes
Capture mind maps & non-linear information w/ diagramming tools
Track action items in your notes w/ checkboxes & due dates
Annotate w/ highlighting, stickers, sketches, sticky notes & keywords
Clip content from other apps directly into your NoteBooks without leaving the app you're working in
Find anything in seconds w/ the Multidex search system
COMPATIBILITY
OS X 10.6 or newer
Languages: English, German, French & Japanese
App Tamer 2
KEY FEATURES
Whether your Mac is old or new, open apps and browser tabs consume CPU, even when they're in the background. App Tamer puts an end to this, pausing apps in the background so they stop sucking the life from your Mac, with no effort on your part required. More battery, more speed, more productivity—no effort.
"...unlike all of the halting utilities I've tried (or invented) before, App Tamer is pure gain with no pain."
Macworld
Instantly see which apps are using the most processing power
Reduce processor usage by automatically slowing down or stopping apps when they're in the background
Decrease fan noise & maximize battery life
Choose which programs to stop & for how long
Easily manage pre-configured power-hungry applications like Chrome, Spotlight & Firefox
COMPATIBILITY
OS X 10.7 or newer
Languages: English & French
iStat Menus 5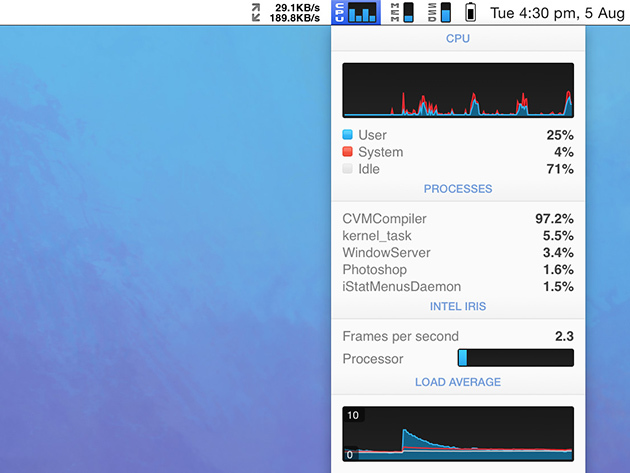 KEY FEATURES
iStat Menus, the most detailed Mac system monitor available, places useful information about your Mac right in the menu bar. iStat Menus is to your Mac what a dashboard is to your car, plus it's wrapped in a beautiful interface.
"...it's one of my must-have apps."
MacStories
See real-time CPU, GPU, RAM, drive & network usage
View everything your Mac is doing--no more guessing if an app or file transfer is stuck
Monitor all of your Mac's temperature sensors & fans
Get an advanced date, time & calendar for your menu bar w/ support for reminders, moon phase, and world clocks
COMPATIBILITY
OS X 10.8 or newer
Languages (Preferences & Dropdown Menus): English
Languages (Dropdown Menus only): Arabic, Catalan, Chinese (Simplified), Chinese (Traditional), Croatian, Czech, Danish, Dutch, Finnish, French, German, Greek, Hebrew, Hungarian, Italian, Japanese, Korean, Norwegian, Polish, Portuguese, Portuguese (Portugal), Romanian, Russian, Slovak, Spanish, Swedish, Thai, Turkish & Ukrainian
Beamer 2
KEY FEATURES
Don't let Apple's format restrictions hold you back from fully utilizing your Apple TV. Beamer lets you stream any kind of media (just like a regular desktop media player) from your Mac to your Apple TV. Simply open a movie file on your Mac and press play!
Open files & press play--no converting required
Play all common formats, codecs & resolutions: AVI, MKV, MOV, MP4, WMV, FLV
Watch high-quality video w/ optimized playback (up to 1080p)
View w/ subtitles & 5.1 surround sound
Pause, fast-forward & rewind w/ the Apply TV remote
COMPATIBILITY
OS X 10.9 or newer
Requires Apple TV
Languages: English
Chatology
KEY FEATURES
If you use Messages, you probably know that searching past messages to find important info can be frustrating. Perhaps you couldn't find what you were looking for, or your Mac slowed down so much that you gave up. Chatology lets you find exactly what you're looking for without frustration.
Instantly find your chats from the services you use with Messages (like iMessage, AOL Instant Messenger (AIM), Google Talk, Yahoo, Jabber & Facebook)
Search within a specific date range
Filter chats to show just images or links shared
COMPATIBILITY
OS X 10.9 or newer
Supports: iChat, Messages (iMessages and SMS), AIM, Google Talk, Yahoo, Jabber & Facebook
Languages: English, French, German, Italian, Japanese & Spanish
Jump Desktop
KEY FEATURES
Enjoy the freedom to work from anywhere with Jump Desktop, a remote desktop application that lets you securely connect to any computer in the world.
Mac App Store: 4.5 stars, 1750+ ratings (one of the top-rated & top-selling apps)
Automatically configure the PCs or Macs you wish to have remote access to without worrying about router settings
Simply visit jumpdesktop.com and click the 'Automatic Setup' link to easily get setup
Utilize the preconfigured support for RDP & VNC protocols
Enjoy full international keyboard support
Use Mac keyboard shortcuts w/ Windows & switch between computers without changing the way you use the keyboard
COMPATIBILITY
OS X 10.8 or newer
Languages: English
Note: iCloud syncing is not supported with this version
----
Shared via
my feedly reader


Sent from my iPhone